I'm back to my tanah air! I always have the sense of belonging when I'm back to my fatherland. I think everyone feels exactly what I feel!
World Cup has just officially started. I'm not sure whether y'know my daddy is a huge football fan!!! So, I assume he'll glue himself on the sofa for the whole day and keep his eyes on the television, without missing any matches. Haha

So I will let him watch, I mean, I will sacrifice my favourite tv programmes. With the arrival of World Cup, do play football with your friends, have some matches with neighbours! It'll be great.
I prefer spending money in Malaysia. I guess it's because in Singapore, I keep telling myself that I will broke one day if I spend too much and don't save money. This is one of the reasons why I like Malaysia.

Why did I go back and forth?
I was required to attend a Science Research Exposure Programme. We enrolled ourselves in various experiments and did visit some institute.
Right on the first day, we introduced ourselves as this is known as the "official yet standard" kind of opening. From that, we (Hui Koon and I) knew that not only both of us are Malaysians, but also another guy who seemed to be quite quiet and shy.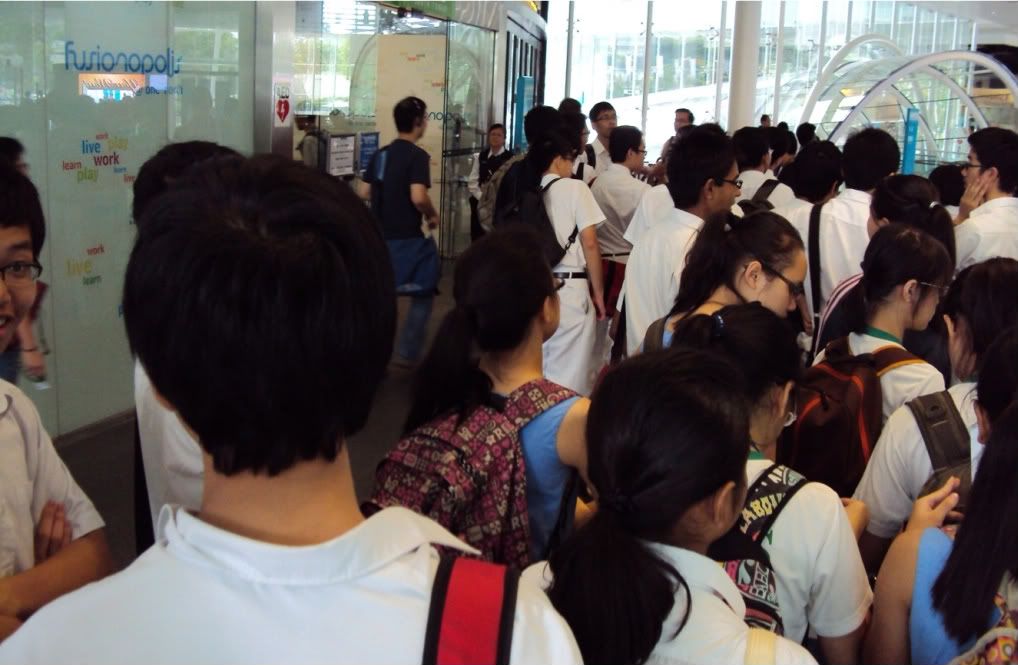 Whole buncha people waiting at fusionopolis for the visit of Data Storage Institute (DSI).
Having group discussion

This is our poster after an hour of brainstorm and discussion between members.


The new robot, Olivia. Knew more about it after visiting the I
2
R.

I realised that the title is not coherent. :P