So What did I do? and How am I recently?
Oh, yesh! we went to Marina Bay, to fly a kite! How was it? Fantastic! but we didn't know how to fly a kite initially, a kind, middle-aged uncle taught us.

We actually didn't have kite but thank God we found someone selling kites there.
I love the breeze and it was a
SUNNY
day!! Various kites were flying freely up in the sky. People went there to enjoy the scenery or fly a kite or even picnic!! I suppose.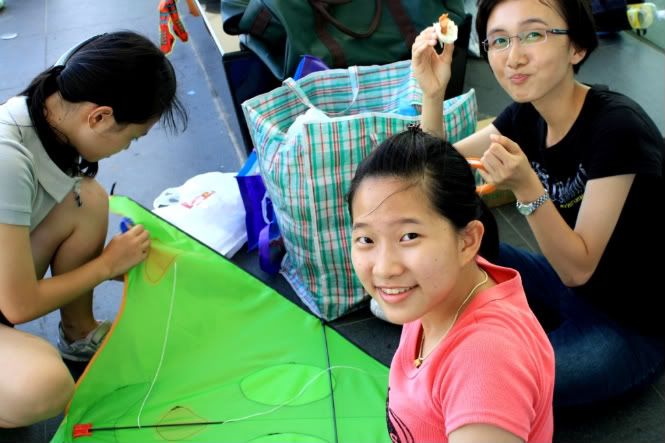 Quinny was busy sorting out how to tie the string while Hui Koon smiling towards the camera, Wan Ting enjoying her delish
pao.
Ha, pity Quinny!
After few tries and failures, we managed to fly our kite!! We were too excited!

Nah, I told you the sun was shining brightly and smiling gently to us! I love you
Mr SUN
!!! This is the "evidence". Can you spot our kite?
We'll go there again, definitely, 'cause I LOVE THERE!! After the stressful school days we should do something relaxing, such as fly a kite!
Overall, I'm doing not badly recently, at least I'm now adapted to the environment and coping with my studies. However, I need to admit that my English sucks.
FAILED